Professional Learning Opportunities
Personalized trainings/workshops are also available upon request!  Please contact michelle@wisconsinpclcenter.org 
Here is what attendees have to say about WI PCL Center workshops:  
"We spent some time working on interactive writing, guided reading plus, as well as read aloud.  We did some training with word sorts, phonics/phonological awareness strategies, and decoding skills as well.  The CIM training was extremely helpful for us and our students!!!  It was probably one of the best trainings I have ever attended."       ~ Brittany Horvath, Waupun Area School District Teacher
"I felt like it was a very valuable training, and is something I use everyday with my students.   I appreciated the times Linda came out and observed, as well as demonstrated a lesson for us."  ~ Mary Brower, Waupun Area School District Teacher
---
Current Workshop Offerings (Level 1 & Level 2)
To register follow the instructions on each flyer.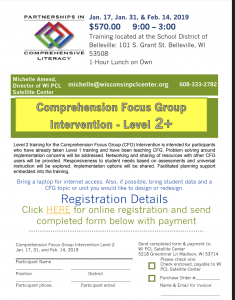 ---
Past Workshops and Trainings- available upon request:
---
What is the PCL  Model and how does it work?